Singapore is truly a world city full of contrasts, energy, and excitement. It boasts dazzling sights by day and pulsating vibes by night. When the sun sets, this island national truly comes alive. While tiny compared to most metropolises, Singapore offers an array of dining and nightlife options that rivals any big city and suits just about every taste. Here are just a few of our favorites.
First Thing's First – Let's Eat!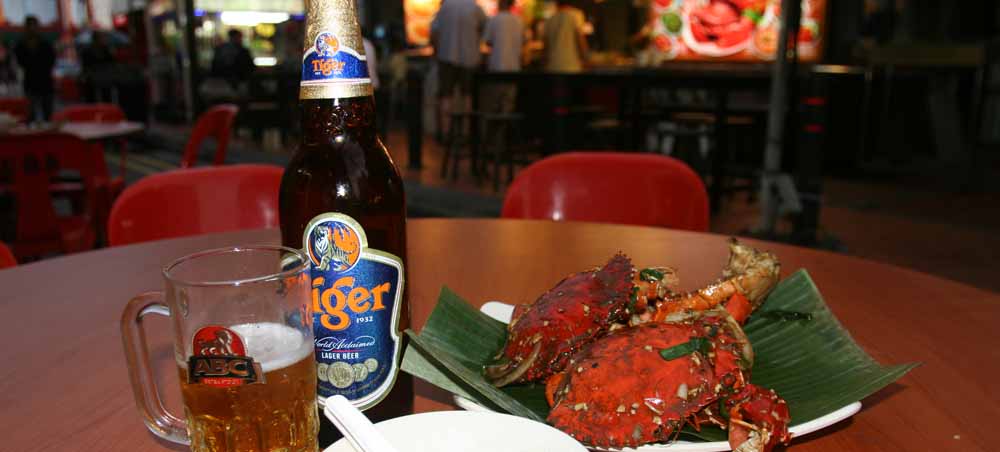 Singapore is synonymous with food. The words "Singapore" and "food" are often uttered in the same sentence by most. For a truly unique dining experience, head to Wild Rocket at Mendhi Hill. This Michelin-starred restaurant offers modern twists on traditional Peranakan cuisine. For sushi lovers, try the Michelin-starred Shinji by Kanesaka at the St. Regis. If you're up for some fine European fare, check out Les Amis, a triple-Michelin-starred French restaurant in an elegant modern setting that boasts one of Southeast Asias largest wine cellars and named Singapore's best restaurant.
While there are some truly world-class dining establishments in Singapore, they may not be for everyone. If you're more into shorts, sandals and some good 'o street food, the city's Hawker Centers are must visit. In fact, they're considered a national treasure. Hawker centers are a place where locals and tourists can feast on some of the best cuisines on the cheap. They are also an important part of the Singaporean culture where locals come to eat and laugh with friends and family. The food here is absolutely delicious and a reflection of the local culture. What better place to eat good food, people watch and a chance to appreciate the diversity of Singapore?
Singapore's Chinatown is a bustling neighborhood filled with seafood eateries, temples, and colorful shops. As one of the first Chinese settlements in Singapore, Chinatown has been a vital part of the city's growth and development. Today, Chinatown is a thriving multicultural community that is home to people from all over the world. A great place to experience the best of Singapore's food, culture, and history.
Club Street, Ann Siang Hill & Clarke Quay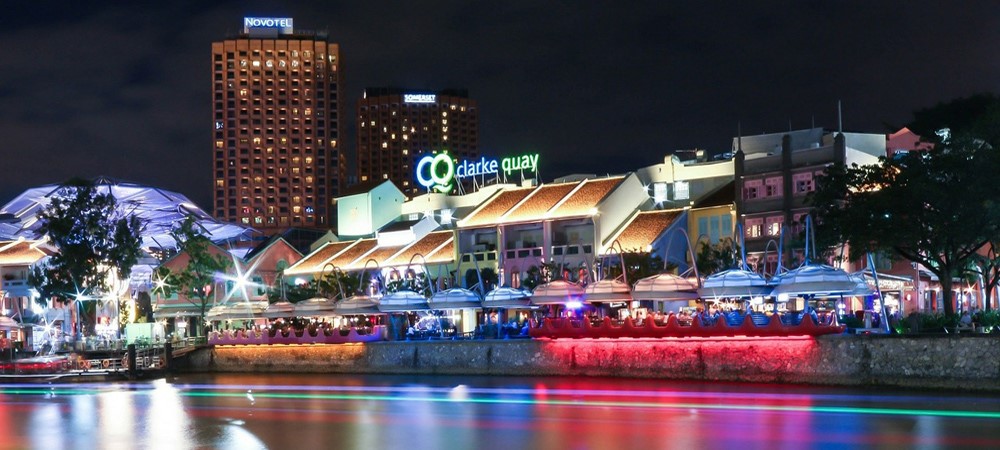 There is no shortage of nightlife in Singapore. After a good bite at your favorite hawker stalls or at an exquisite Michelin-starred restaurant, head to Club Street and Ann Siang Hill. Located near Chinatown, this district is saturated with restaurants and bars lined with quaint shophouses.  Here, bar-hop through the myriad of options – from whiskey lounges to rooftop bars to jazz clubs and everything in between. Among our personal favorites here are Operation Dagger,  The Tippling Club and The Pocket Bar. Afterward, take a stroll along Clarke Quay, set on the banks of the Singapore River famed for casual outdoor dining and nightlife for tourists and locals alike. Whether you're looking for a night out on the town, a relaxing evening stroll along the waterfront, Clarke Quay might just be the perfect spot.
Gardens by the Bay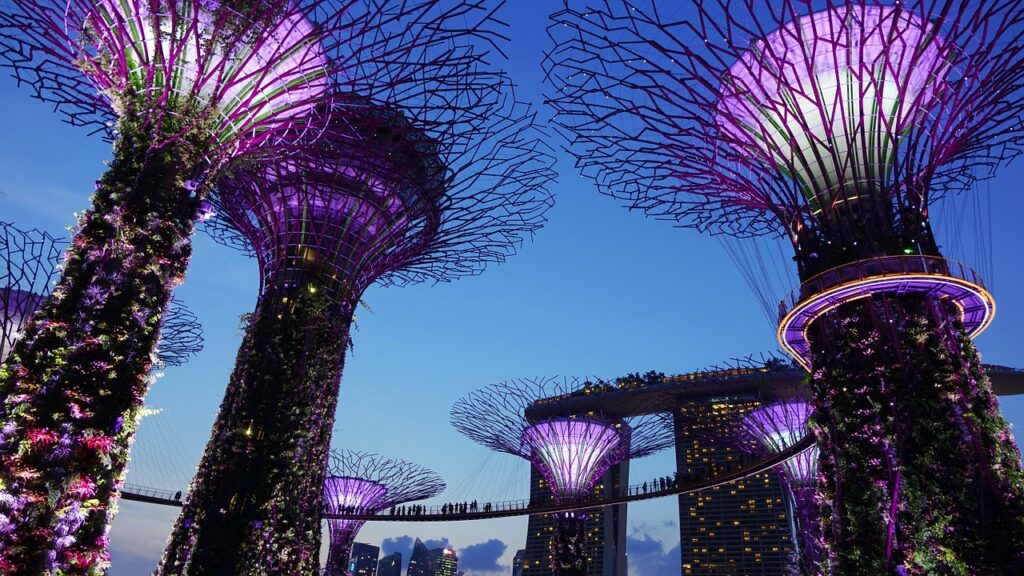 One of Singapore's newest attractions is the Gardens by the Bay. This massive garden complex spans over 100 hectares. The gardens house two domes – Cloud Forest and Flower Dome, which are climate-controlled indoor glasshouses. The Flower Dome replicates the cool-dry climate of the Mediterranean and South Africa, whilst the Cloud Forest replicates a cool-moist climate found in Tropical Montane regions such as Mount Kinabalu in Sabah and high elevation areas in South America. Within the gardens are also 18 glittering Supertrees that stand 50 metres tall that perform a multitude of functions such as generating solar power, acting as air venting ducts for nearby conservatories, and collecting rainwater.
The Infinity Pool at Marina Bay Sands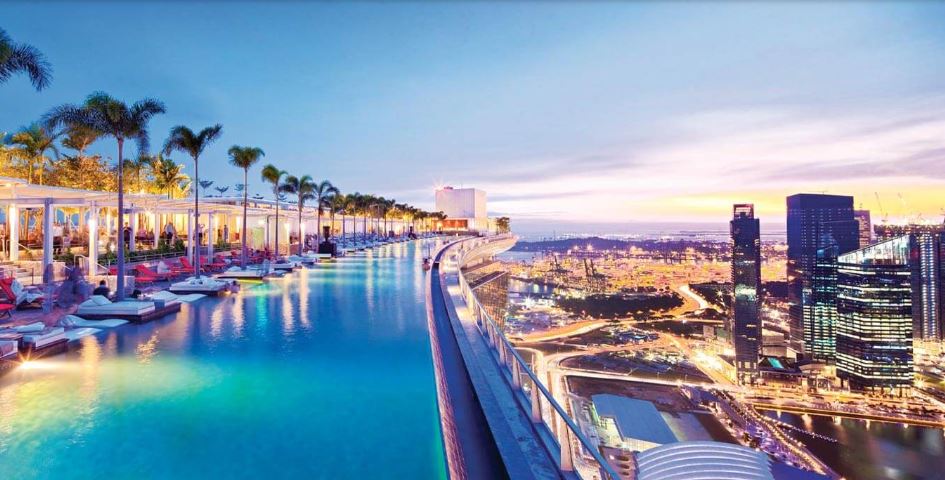 Finally, if you're lucky enough to stay at the Marina Bay Sands, this is the place to see and be seen. Since opening in 2010, this spaceship like hotel has become the symbol of Singapore, even over taking the iconic Merlion on the Singapore waterfront. This chic hotel and casino was featured in the hit movie "Crazy Rich Asians" that overlooks the city's skyline, featuring a world-class spa, delectable dining, and of course, a stunning infinity pool that seems to disappear into the cityscape. The pool, standing at 1640 feet, is the highest, most breathtaking and one of the largest outdoor infinity pools in the world. If you're looking to splurge, experience something truly unique and light up your Instagram, Marina Bay Sands checks all the boxes.
Singapore is world renowned for its bustling nightlife and tantalizing cuisine. With its diverse culture and amazing skyline, it's no wonder that Singapore is one of the most popular tourist destinations in the world. So if you're looking for a destination that boasts endless fun, great food and vibrant nightlife, be sure to add Singapore to your map.