A trip to Maine in the fall? Yes, please! One lobster cruise, a historical lighthouse, and an abundance of colorful fall foliage later, I can confidently check Maine off my list knowing that I experienced it just how any traveler should.  For, not only does the Pine Tree State have so much to offer its visitors, it's been working hard to ensure it remains a safe and healthy travel destination despite Covid-19. After a weekend of exploring and experiencing all the "Maine" attractions (pun totally intended), I can safely say that a trip up there is not to be missed.  
While taking in the immense beauty of Maine in the company of my family was incredible in its own right, perhaps the best and most unique thing about this trip was that you, my dear readers, got to plan my itinerary. Dubbed the "This or That" program by Visit Maine, you effectively got to "choose my adventure"—what I ate, the places I visited, and the things I did were all up to you! This is the first time that I've done such a thing in all my travels and if I'm completely honest, I loved it! Letting you vote on which activities I got to try meant that you got to truly experience Maine with me. This type of collaborative program both enriched and enhanced my first foray to the Pine Tree State, so without any further ado, let's get into some of the coolest things I did on my trip to Maine!
Lobster fishing excursion with Lucky Catch Cruises
If Maine is known for one thing, it's lobsters, so on the first day of my visit, my followers had me jump right into one of Maine's most popular and exhilarating bookable activities: lobster fishing! This excursion, operated by Lucky Catch Cruises, did not disappoint, and in fact was a highlight of my trip. Not only was this my first time lobster fishing, but it was an experience I enjoyed more than I could ever imagine.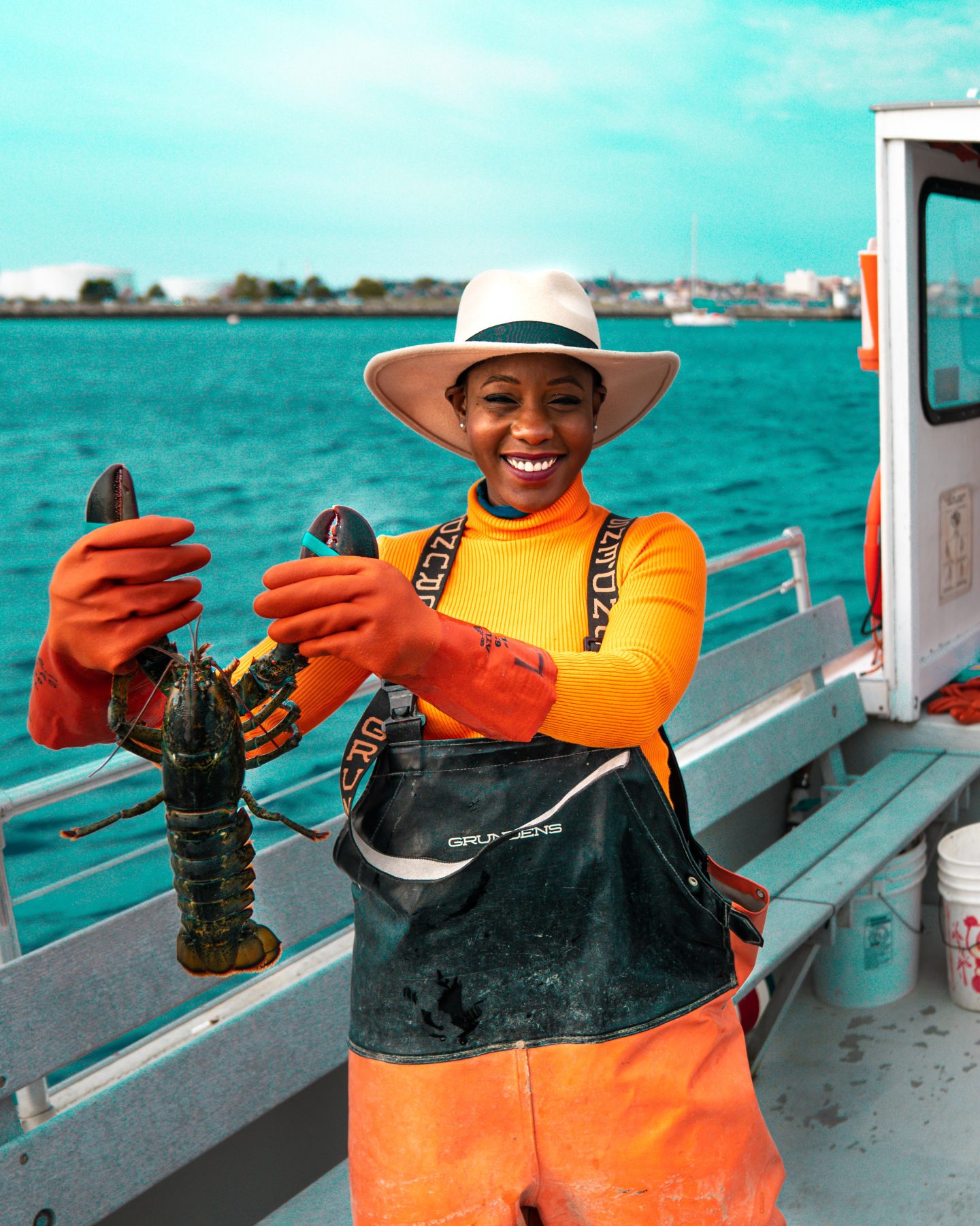 With the wind in my hair and the Maine coastline acting as a beautiful, serene backdrop, I felt completely immersed in Maine's deep-seated cultural tradition of lobstering. After pulling traps bursting with lobster out of the water and getting to handle the large crustaceans on my own, there's no doubt that Lucky Catch Cruises delivered on their promise of a personal and unforgettable lobster haul. I had so much fun that I'm low-key contemplating a career transition to a full-time lobster fisherwoman… 😉
Sunset beach stroll at Reid State Park
Next on my itinerary, my followers voted that I head over to Reid State Park, which was not at all what I was expecting.  This is because Reid State Park is actually home to Maine's first State-owned saltwater beach – something that excites the Caribbean roots in me! Noted for its picturesque sandy shores (these are rare in Maine), sand dunes, and rocky tide pools, the park is the perfect spot to visit whether you or your group want to spend time in the sand or hike along one of the park's multiple trails. 
If you do choose to go for a hike (we were lazy), a great option is to hike up to Griffith Head, which is a rocky point that overlooks the park and boasts appealing views of the lighthouses on Seguin Island, Hendricks Head, and The Cuckolds. Whichever route you choose, you're sure to leave the park with beautiful pictures and even better memories.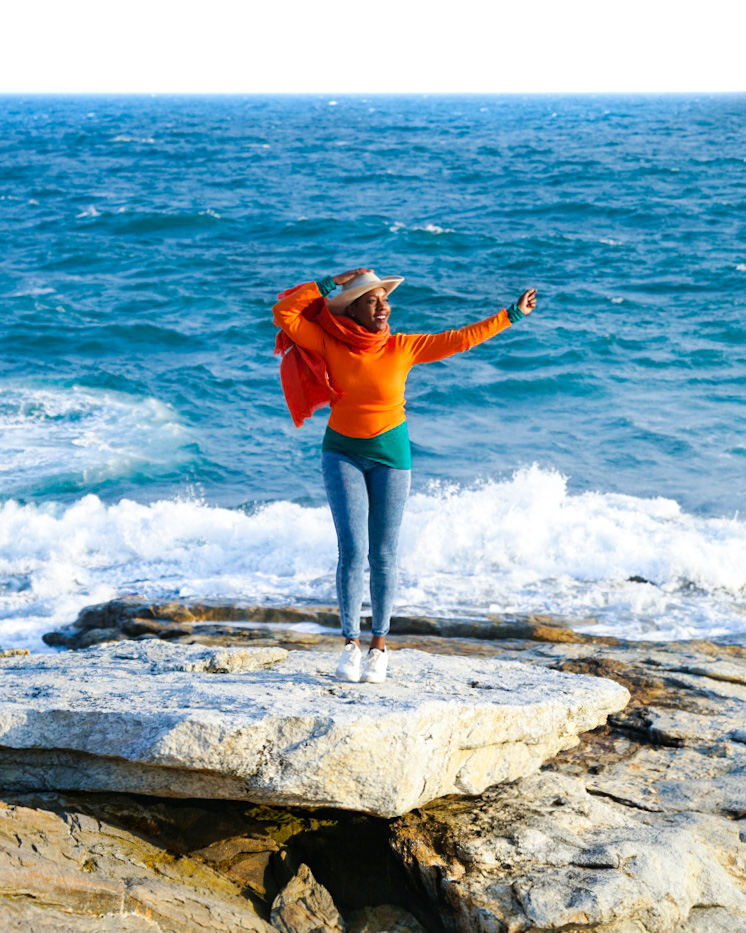 Fall foliage cruise with Damariscotta River Cruises
Is fall your favorite season?  If so, there's yet another reason to head to Maine– the foliage in autumn is simply exquisite and oh-so-photogenic. If leaf peeping is your thing, the perfect opportunity for a scenic seasonal photo op can be found on one of Damariscotta River Cruises' fall foliage excursions. Autumn in Maine is undoubtedly the season that accentuates the state's natural beauty and though it's beautiful from any vantage point, there's nothing better than taking in the vibrant vegetation on a cruise through its waters. 
Photo ops aside– we couldn't have asked for a more beautiful day to be outdoors for this activity. As we toured along the Damariscotta River, the ship's captain – who was quite quirky I might add – shared information about the flora and fauna native to the area. While this is the cruise I'd for sure recommend to any visitors who want to do some leaf peeping, Damariscotta River Cruises also offers other exciting boat tours to choose from including an Oyster and Wine or Oyster and Beer cruise!
Exploring Cape Elizabeth and the Portland Head Lighthouse
For our final day in autumn utopia, my family and I were excited to make our way over to our last stop on the This or That itinerary: the Portland Head Lighthouse. Maine's most popular lighthouse is found in Cape Elizabeth and perched atop a small bit of land along the remarkable shoreline of Fort Williams Park. 
As Maine's oldest lighthouse, Portland Head attracts many visitors year-round and for good reason– it's extremely picturesque. But it's not the only one: look past the harbor and you'll see  a few other lighthouses dotting the coastline – Spring Point Ledge Lighthouse to the left (north), Ram Island Ledge Lighthouse in front of you, and Cape Elizabeth Lighthouse to the right (south).
Whether you're a history buff intrigued by the deep antiquity of these lighthouses or you feel they set the perfect scene for a charming photo op (I know I got a cute picture!), Portland Head Lighthouse is a spot not to be overlooked on your Maine itinerary. The lighthouse has a museum located in the former keepers' house which visitors are welcome to explore. The museum tells the story of this light station through old documents, artifacts, photographs, and navigational equipment; if exploring the surroundings on foot is more your thing, neighboring Fort Williams Park has multiple walking and hiking trails, picnic areas, and boundless ocean views.
A note on traveling to Maine during Covid-19
While many people are still hesitant about traveling right now, I must say that throughout my entire trip, I felt very safe and comfortable. Personally, I was reassured by the residents of Maine and their dedication to diligently wear masks and practice social distancing. Furthermore, given that Maine is known for its beautiful outdoors, I also found comfort in knowing that a lot of my trip could be spent outside if I so chose. So, if you are indeed itching to explore in these strange times, Maine is a destination that is taking every precaution to keep both its residents and visitors safe.
Let Maine be your "Maine" event
After exploring Maine by land and by sea, I couldn't have asked for a better itinerary to immerse myself and my family in the state's rich local culture. While it was amazing to experience the Pine Tree State in the fall, having my followers choose my adventures was undeniably what made the trip even more special!  I can't wait to return in the spring (or summer, or winter) and encourage you to do the same, when you feel ready.
To learn more about planning your trip to Maine from things do to, where to stay, places to go and more, check out visitmaine.com.
This post was written in partnership with Visit Maine, but all opinions (and bomb photos!) are mine.